Book Reviews
Find out what people are saying about Rock Gods & Messy Monsters
Editorial Reviews
Reviews and Book blurbs are coming in on a consistent basis so check back for new additions. If you've read the book, we encourage you to post a review on the site where you bought the book. Check out what people are saying!
US REVIEW OF BOOKS – "The novel is so perverse it causes one to laugh out loud at the deranged storyline and detailed descriptions, offering an easy-to-read yarn for those looking for something different. This is truly satire at its best." (Carol Anderson. Read full review.)
THE BOOKLIFE PRIZE – "Satirical, zany, hilarious—a gut-punching commentary about the inner workings of the music industry, its power complexes, and power plays." (Full evaluation)  
INTERNATIONAL REVIEW OF BOOKS – "This book is gross, but fast-paced and funny, and all it takes to make that connection is to have experienced being a woman in a man's corporate world. Or really, just being a woman at all. A timeless struggle, set in a dystopian world where reality and fantasy merge to bring home hard realities with humor and wit. It's horror mixed with misogyny, and I'll leave it to readers to decide which is truly more horrific. The war is real, ladies, and it's fantastic to see our victories become reality, in life and in prose!" (full review)
KIRKUS DISCOVERIES – "Once readers orient themselves with the idiosyncrasies in Hatz's darkly whimsical—yet ultimately relatable—novel, they're in for a fast paced, entertaining comic treat. Character-driven, this loopy satire is a droll examination of the corporate-music world." (Read the full review.)
MIDWEST BOOK REVIEW – "Modern creative writing classes looking for discussion points in experimental literary styles will find Rock Gods & Messy Monsters promises many lively debates about the elements of social examination and the impact of truly creative writing." (D. Donovan. Read the full review)
THE LIT REFINERY – "It's difficult to really pin down Rock Gods. You could take it at face value and chalk it down as pure abstract surrealism. You could also decode comma and quotation mark for deeply written philosophical wisdom. I think it's a little bit of both." (Full review)
INDEPENDENT BOOK REVIEW – "Rock Gods & Messy Monsters by Diane Hatz is a bullet-hell critique of corporate and mass culture by way of Theodor Adorno filtered through the whimsy and humor of writers like Terry Pratchett and Kurt Vonnegut….The best kind of absurdism; the kind that a veneer of the surreal while having the grisly guts of reality right underneath." (Joshua Ryan Bligh. Read the full review.)

THE WISHING SHELF BOOK AWARDS -"A compelling and highly satirical look at the music industry of the 1990s. A FINALIST and highly recommended!" (Read complete feedback, including from readers)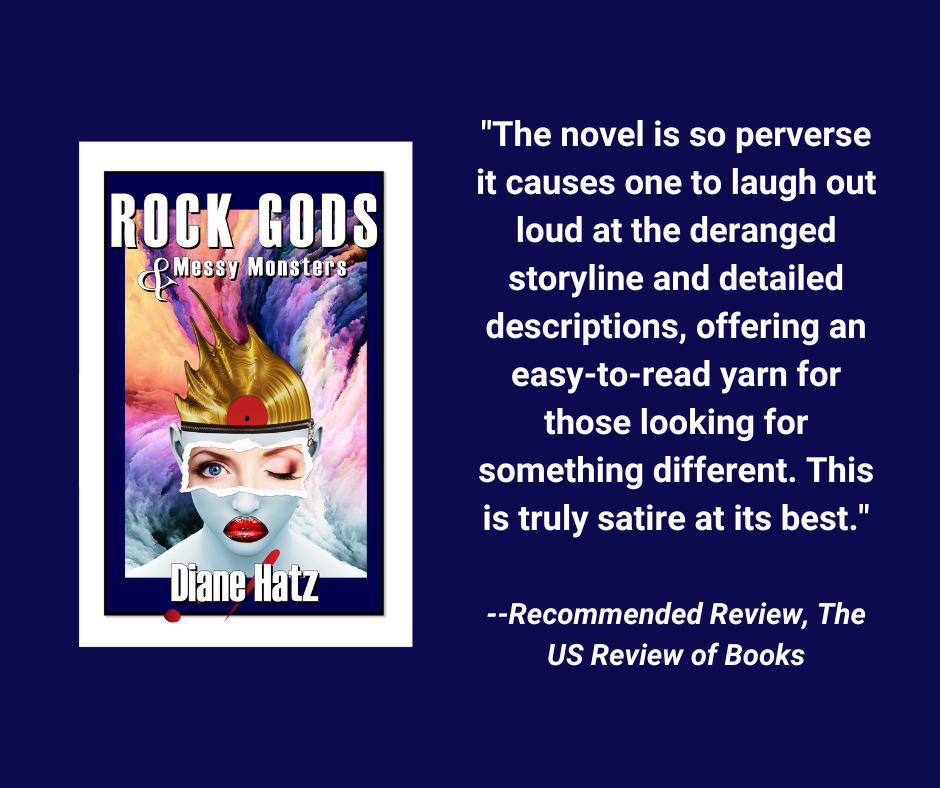 Select Online Reviews

Sarah Jane
Dystopian feminist satire! Absolutely loved it! "This book made me laugh, it made me cry! I couldn't put it down!"
Sheryl C. W.
Whimsical, funny, and surprisingly deep– "Loved this 1st novel by Diane Hatz and can't wait for more! At first glance, a bizarre cast of characters seem fantastical, but look again and you might see yourself in one or another. Look closer, and you realize it's the reality of daily life in corporate America that's so bizarre. In other words, Diane transports us to a fantasy world so we can see our own more clearly. The journey is whimsical, funny, and surprisingly deep."
 Carrie H.
"Big is big in every respect." – If you grew up in the nineties, or were living it up as a bright young thing back then, this book is for you.
Rock Gods and Messy Monsters is more than the story of Alex, a frustrated secretary battling her way up the corporate ladder. It's a witty, dystopian send up of the music industry in the days before Napster. But despite the rollicking absurdism, the inept, hubris of those standing in Alex's way is no joke. In fact, it's Alex's honest intelligence which threatens to undermine her very existence at Acht Records.
For anyone who's worked in show business, or for an egomaniacal boss, for lovers of Max Headroom, fans of Douglas Coupland, or Jennifer Egan's A Visit from the Goon Squad, this book is for you. With a narrative which swings from gleeful sci-fi dystopia to genuinely questioning the appalling judgement of those who claim to be in charge, Rock Gods will have you laughing one moment, and then force you to consider how one functions in a world full of crazies, when it's your dream to work amongst them.
Deena Rae T., singer/songwriter
Hatz has written 'The Hitchhiker's Guide to the Music Industry'. Read it for the sheer fun of witnessing the pulsing death throes of the puerile empire that was 90s corporate music. Uproariously funny."
JP Gardner, Survivor of a Fortune 10 Conglomerate
"A Swiftian take on the 1990s music industry viewed through a Daliesque lens,  Rock Gods & Messy Monsters is a deft satire on corporate culture that will resonate with anyone who has ever worked in a corporate environment.  A rollicking good read with memorable characters and insane — albeit relatable — situations…"
Eileen T.
George Orwell Meets Neil Gaiman – "In a brilliant sidebar to the Me Too Movement, Diane Hatz has given us an eye-opening satire that conjures up Orwellian dystopia, Gaiman-esque characters and unforgettable imagery. Everyone should read this entertaining, yet cautionary, send-up of the recording industry. Highly recommended!!"
Jennie V.
Hilarious and thought provoking! Inspiring to those following the Great Resignation happening today. "Rock Gods & Messy Monsters is a hilarious and thought provoking satire, based on the real life experiences of the author, on the corporate music world in the 90s. The vivid and symbolic imagery had me laugh out loud, and also feel sadness and disgust, at the ridiculous soul destroying behavior that can happen in corporate politics. In the end, there is a very hopeful and inspiring ending that made me think about the origins of the great resignation and quiet quitting now happening today."
Rob H
Clever, somewhat absurdist satire
– "When I began reading the book, I was concerned that the absurdist angle might be too much for me to adjust to successfully. My concerns were unwarranted – from the moment the administrative assistant unzipped the side of her head, removed her brain, and placed it in the storage container on her desk (as required by her job), I was hooked. While not a laugh-out-loud humor, I smiled pretty much the entire time I was reading the book, and greatly enjoyed the satirical commentary that flowed from every page. Between the satirical moments (and during them, actually), I gained insight into aspects of the music industry that gave depth to some of the comments that have been made by contemporary female stars/artists about the same. Clever, unsparing, and well written – highly recommended.
Reader Reviews from The Wishing Shelf Book Awards
** "Highly satirical with a message hidden in there! Enjoyed this novel very much. If you are interested in the ups and very deep downs of working in the music industry, you'll find this enlightening – and funny too!" Male reader, aged 54
** "Fast-paced with plenty of laughs, this is a gem of a book. The author's writing style fits perfectly." Female reader, aged 51
** "Loved the characters, but it was the author's well-developed sense of humour and her way of highlighting the absurd that sucked me into the novel. I remember the 1990s and, yes, it was a bit crazy!" Female reader, aged 53
** "Funny, but sad too, as the author looks at sexism in the workplace of the 1990's music industry. There's not a plot as such, but it is compelling, particularly if you remember those years. Possibly a bit OTT in parts, and not every funny moment hits the marks, but I still enjoyed it very much." Female reader, aged 41
** "The corporate world is not so different now; the sexism is just hidden better. Thought-provoking, a bit crazy, very silly, but I was never bored reading it!" Female reader, aged 66